November 2017
S
M
T
W
T
F
S
1
2
3
4
5
6
7
8
9
10
11
12
13
14
15
16
17
18
19
20
21
22
23
24
25
26
27
28
29
30
About the NWGMA
The Northwest Golf Media Association was founded in 1995 by and for people who write, edit, discuss, produce and otherwise impart golf-related articles, books, columns for newspapers, magazines, television, radio, internet, social media and all other forms of communication. The nonprofit organization was originated to assist in the collaboration of efforts of the working media who cover golf in the region.
The NWGMA seeks to bring attention to the region's golf heritage, and it hopes everyone in the media gives golf equal status with other sports. It also strives to educate the community about all facets of the golf industry and what each entity brings to the game of golf. Its members facilitate this by creating a network among colleagues for sharing story ideas and creating a community for discussing and disseminating Northwest golf news.
NWGMA Mission Statement
The Northwest Golf Media Association shall focus on the best interests of the game of golf in the Pacific Northwest with the assistance of individuals in the Northwest golf media.
---
From the News Room
Gamble Sands has a new GM



​Orin Vincent, the Founder and Chairman of OB Sports Golf Management, recently announced that Brady Hatfield has been names as General Manager of Gamble Sands. Brady will oversee all golf operations, as well as The Inn at Gamble Sands and Danny Boy Bar and Grill.Brady Hatfield has been named as the Gamble Sands General Manager. See story.



Hitting the links way Down Under

By Allen Schauffler

STEWART ISLAND, New Zealand — My final putt is dead-center, right in the heart of the cup; a firm, four-inch, no-doubter for bogey. It's the last stroke in my best single scoring round of golf ever – a solo, soggy, putt-em-all, no gimmes 27. See story.



The NWGMA goes to Ireland

Four NWGMA members – Tom Cade, Blaine Newnham, Rob Perry and Bob Sherwin – recently went on a 10-day golf tour to Ireland, playing some of the finest courses the Emerald Island has to offer.

Sherwin, the NWGMA President, chronicled the visit in a series of 11 articles for Golferswest.com.

Here are his stories, which are loaded with information, observations and some terrific pictures taken by Perry, one of the finest photographers in the golf – or any – industry.

Part I Mystic Links of Ireland

WATERVILLE, County Kerry, Ireland — They are seemingly in every little village and every little town across in Ireland, north, south, east and west, yet, in relation to the rest of the world, they are a fragile few. See story.

Part II Mystic Links of Ireland: Tralee Golf Links

WEST BARROW, Ardfert, County Kerry, Ireland — From the moment you step onto the grounds of Tralee Golf Links you feel the presence of the golfing legend Arnold Palmer. See story.

Part III Mystic Links of Ireland: Lahinch

LAHINCH, County Clare, Ireland -- Sometimes, you can just feel history.

It's beneath your feet as you take an 18-hole walk-around the venerable 125-year-old Lahinch Golf Club in southwest Ireland. It's there. You can sense the vision in the legendary figures that molded this dune-dotted, rough hew landscape into one of the greatest golf links on the planet. See story.

Part IV Mystic Links of Ireland: Spanish Point

MILLTOWN MALBAY, County Clare, Ireland -- For those who have played the hidden and humble gem of a golf course, Spanish Point Golf Club, you should consider yourself fortunate. You survived.

You wouldn't want to have been here just a scant four centuries earlier. If the local English enforcers caught certain people lurking around in the area, they had a nasty habit of hanging them from what is now the eighth tee. See Story.

Part V Mystic Links of Ireland: Trump Doonbeg


DOUGHMORE BAY, County Clare, Ireland -- To appreciate the essence of Doonbeg Golf Club and understand how it has emerged as one of the world's great links resorts, credit needs to be given to two people. See Story.

Part VI Mystic Links of Ireland: Adare Manor

ADARE, County Limerick, Ireland -- Three years ago, the Adare Manor golf course, designed by renowned American architect Robert Trent Jones, Sr., was considered the best parkland course in Ireland. See Story.

Part VII Mystic Links of Ireland: Waterville

WATERVILLE, County Kerry, Ireland — Somewhere under all those unruly dunes, all that rocky terrain and all the wanton grassy underdeveloped property along the Atlantic Ocean was a world-class golf course. See Story.

Part VIII Mystic Links of Ireland: Dingle

BALLYFERRITER, County Kerry, Ireland -- Back in the the late 1970s, when acclaimed Irish golf course designer Eddie Hackett added nine more holes to finish off Dingle Golf Links, all he might have needed was a shovel, a rake and a tee sheet. See Story.

Part IX Mystic Links of Ireland: Dooks

GLENBEIGH, County Kerry, Ireland — Dooks Golf Links has been a golfing institution around here for 128 years, one of the oldest in all of Ireland.

By next summer, the course should be just about finished. See Story.

Part X Mystic Links of Ireland: Ballybunion

BALLYBUNION, County Kerry, Ireland -- Word of advice, as the Ballybunion starter needs to tell countless first-timers playing the legendary course, stay left of the cemetery on your opening drive. See Story.


Part XI Mystsic Links of Ireland: Trip Postscript

It has been a challenge in this two-dimensional space to provide a full appreciation of the spectacular Irish golf links. One needs to experience them in the third dimension, walk the grounds, face those challenging shots, breathe the air, and get drenched by a sudden squall. It's a once-in-a-lifetime experience that you can do annually. See Story.





Wartelle new Executive Director of First Tee of Greater Seattle



SEATTLE – Dan Wartelle is the new executive director of The First Tee of Greater Seattle, an international youth development organization that introduces the game of golf and its inherent values to young people.
Wartelle is a communications and development executive with nearly 20 years of experience supporting non-profit organizations in the Seattle area.
"We are very pleased to welcome Dan to the organization," said Craig Bruya, Board president. "His strong background and multiple roles with area non-profit sports organizations, combined with his mission-driven, problem-solving approach to business will be an asset to The First Tee."
Prior to joining The First Tee of Greater Seattle, Wartelle was vice president of Communications for Special Olympics Washington. During his seven years there, he helped develop the house raffle fundraiser, which grossed nearly $3.5 million each year. Wartelle managed all communications for the organization and held previous positions in human resources and development.
Earlier in his career, he held executive positions in communications, public relations and marketing at Seafair as well as communications positions with Major League Baseball and the Seattle Mariners.
About The First Tee
The First Tee (TheFirstTee.org) is a 501(c)(3) non-profit youth development organization whose mission is to impact the lives of young people by providing educational programs that build character, instill life-enhancing values and promote healthy choices through the game of golf. With its home office at World Golf Village in St. Augustine, Fla., The First Tee reaches young people on golf courses, in elementary schools and at other youth-serving locations.
Since its inception in 1997, The First Tee has grown its network to deliver programs in all 50 states. In 2016, The First Tee brought character education through the game of golf to more than 5.3 million young people. The First Tee's Founding Partners are LPGA, the Masters Tournament, PGA of America, PGA Tour and the USGA. Johnson & Johnson is The First Tee's Legacy Partner and Southern Company is its Education Patron. Former President George W. Bush serves as honorary chair.
About The First Tee of Greater Seattle
The First Tee of Greater Seattle serves more than 1,800 young people each year at nine different facilities in King County.
The Seattle program recently received approval from Seattle Parks and Recreation to build a junior clubhouse at Jefferson Park Golf Course. Seattle native and PGA Tour Champions pro, Fred Couples, serves as honorary chair of the capital campaign.
Dear Presented NWGMA's Distinguished Service Award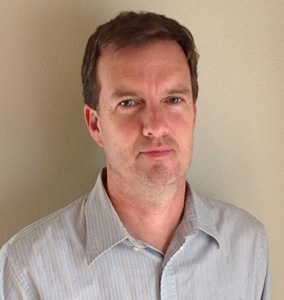 Long-time golf writer Tony Dear was presented the Northwest Golf Media Association's Distinguished Service Award on Sept. 25 during the organization's year-end golf/luncheon bash at the Fircrest Golf Club in Tacoma.

Voted on by NWGMA members, the honor is given annually to an individual who has made significant contributions during their careers to promote golf in the Pacific Northwest.

"Tony has become one of the most prolific and accomplished golf writers based in the Northwest," said presenter Jeff Shelley. "We're lucky to have him, and it's very rewarding to see how he's carved out one hell of a career here."
Dear is a 46-year-old who lives in Bellingham, Wash., with his wife and two children. He was born in England and moved to the U.S. in 2001. He played on the Liverpool University golf team, and was a PGA apprentice pro at a club about an hour south of London. He was a senior editor at Today's Golfer in England, before moving to the U.S.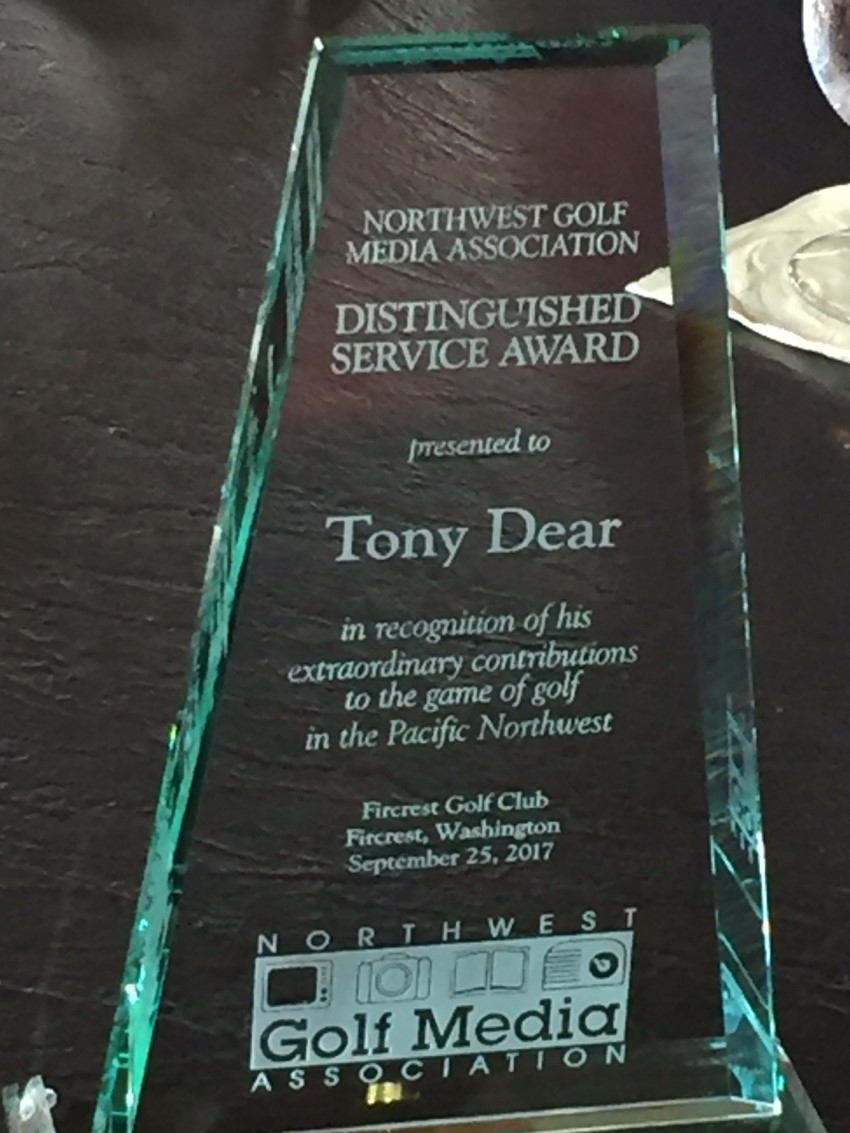 Dear has been writing about golf for 24 years. From 2003-08, he was the golf correspondent for the New York Sun. He's had bylines in over 40 publications worldwide, and written five golf books.

He will be forever etched to the super-cool Gamble Sands golf course in Brewster, Wash., recently selected as the best golf course in the state of Washington. Dear is the one who came up with the name.

He has received 25 writing awards from the International Network of Golf (ING), and two award nominations from the Golf Writers Association of America (GWAA).

As a golfer, not so much.

He recalled the first round of golf he played as a member of the NWGMA – at Washington National in 2002.

"It was my first time (playing in an organization event) and I really wanted to play well," he said. "I think I was on the fourth tee when I realized that I was playing absolutely like garbage and I have done so for the past 15 years."

Dear said he has been fortunate to have made so many friends in the industry, including many NWGMA members. "I also have been lucky to have played some of the greatest courses in the world."

Shelley, a co-founder of the NWGMA, recalled the first story Dear wrote for Cybergolf.com in 2003.

"It was titled 'Unbe-wie-vable'," Shelley said. "It was about a 13-year-old Michelle Wei, now 27, playing with the big boys at the Sony Open. Tony's story got so much traffic it crashed our servers, which helped me convince my boss Dan Murnan that I needed an editorial budget to retain talents like (Dear)."

Besides Cybergolf.com, Dear writes for Cascade Golfer, Pacific Northwest Golfer and Golf Today NW. Outside of Washington, he contributes to Colorado AvidGolfer and Links Magazine, a national publication.
Besides writing, Dear led the First Tee of Whatcom County for a year in 2014. He is currently coach of the Bellingham High School boy's golf team.

"The highlights of my 15 years here are the U.S. Amateur in 2010 and the U.S. Open (both played at Chambers Bay) in 2015," Dear said. "Both were superbly run."

He predicted, "When the U.S. Open comes back (to Chambers Bay), which I am sure it will, it will be the greatest U.S. Open ever."




UW's Jack Russillo Awarded NWGMA Scholarship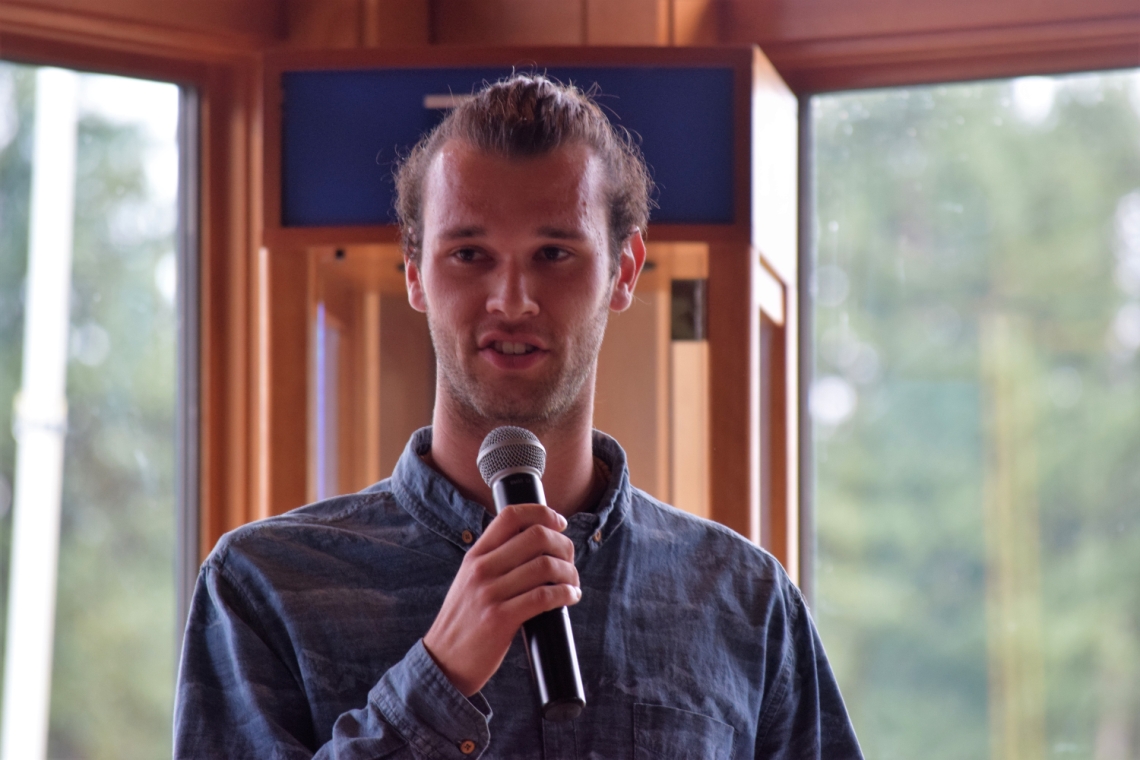 Jack Russillo, a senior at the University of Washington, received the Northwest Golf Media Association's college scholarship at the NWGMA's annual year-end banquet Sept. 25 at Fircrest Golf Club.
"Well, I never have been handed a check this big," Russillo said upon being presented an oversized check for $2,500 by John Hughes, the NWGMA Scholarship Chairman. "But I want to thank all of you guys so much."
Russillo has gathered a wealth of journalism experience that dates to his high school years. He began his writing career working for his hometown newspaper, the Orcas Island's Sounder, covering high school sports.
He then moved on to the UDub and immediately began reporting for The Daily, the campus student newspaper. During his freshman year, he was fortunate to cover the crew teams and witnessed the record-setting fifth straight national title for the UW men's crew team. He has also covered women's soccer, the men's and women's basketball teams as well as the UW football team.

Russillo attended the year-ender with his girlfriend, Katie.
"You were all kind enough to invite Katie and me down here to play golf, dine with you and just talk and hang out," Russillo said. "It's awesome to see you people come together and want to support someone who wants to write sports. I will do my best to impress you guys and impress the world to do the best job I can. Thank you."
The young journalist has cultivated a wealth of experience and diversity that has opened doors. Besides his work in the UW journalism department, he also has written for the Seattle Times, covering the UW football teams epic 2016 season, as well as stories for The Mountaineers, Seattle Met Magazine, and Northwest Travel and Life.
Outside of his commitment to writing, Russillo is on his way to a double major in International Studies and Communications (with a focus in Journalism) and has a GPA of 3.58. In his leisure time, he follows his passions of trail running, rock climbing, and mountaineering.